Fall is definitely here in Michigan. We had our first frost the other day and it was a hard one. That means another season is here. Without any further ado, this is my favorite things for fall 2017.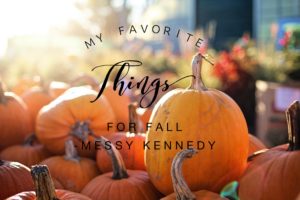 The rest of this post contains affiliate links. They do not raise the price for you, as the consumer. As a blogger, I do get a small earning of any purchase you may make. That small earning helps pay the cost of keeping up this blog. So I appreciate the support.
I have two Stormy Kromer hats (the Petal Pusher and the Button Up) that are staples in my wardrobe when it isn't a million degrees out. I love them. The Millie Kromer, in the picture above, is the one I want next. I love that it has all of the look of the classic versions with a spot for your ponytail. If you're in the market for a different style hat, Stormy Kromer has you covered.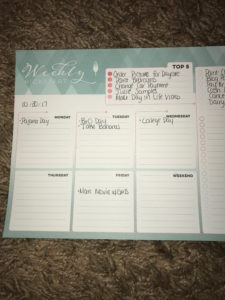 For 2018 I am trying a new planner from inkWELL Press. I not only love the planner but I love that inkWELL Press is focused around helping you be your happiest and most organized self. Although I haven't started officially using the planner yet, I started using the Weekly Kickstart. It's basically a place to put everything you have going on during the week in one place. It's easy to check and a notepad has 50 sheets. If you use the link above, you can get $10 off a planner too.
While I was walking into the Detroit Free Press Marathon Expo my purse strap broke. That break meant I got to get the bag I've been eyeing for a year. I've been wanting a bag that can carry the things I need but also that I can throw a couple diapers and some wipes in and go. The Companion Bag from Stormy Kromer is it. It's big enough that I can carry everything Calli and I need but it's still small enough I can throw it over my shoulder and have my hand free all day long. I also love the look of it. It's rustic and I can see will wear well.
y
Lush's Charity Pot is one of my fall and winter necessities. My hands are already getting dry and that means I need lots of lotion. I love the smell of the charity pot because it is so light. I'm not afraid to use it in the middle of the day because the scent doesn't stick around all day long. It has powerful moisturizers but it isn't thick and oily. I call this a win-win.
These pens are not really a for fall thing. But this summer I got obsessed with them. The Pilot Frixion pens are my new favorites. This is the first time I actually bought an ink refill for a pen. My favorite part is the fact that they are erasable. I love writing with pen but I hated it when I had to cross it out or use white out. Problem solved with these pens.
The other skincare must I have is Lush's Buffy Bar. I have dry skin and it gets so itchy in the cooler months. I use the bar at the end of my shower to get all of the dead skin off and add a layer of lotion. My skin feels so soft and I couldn't survive winter without it.
What are your favorite products for fall? I would love to know what you are loving.