This review is not associated with Feetures! in any way. They did not ask me to write this review, this is my genuine review. That being said, this post does contain some affiliate links. Meaning I may get a small amount of profit for your link click or purchase. This helps cover the cost of my blog and it does not impact how much you pay for the product.
If you follow me on Instagram you may know about my love for Feetures! socks. They are high quality, comfortable and they do not slide down while I am running or doing anything else. I also love the added arch support and the sweat wicking nature they have. I can wear these socks on the farm all day and when I pull them off my feet are dry. That's impressive considering my rubber boots don't breathe much on hot days. I have these no show socks and these ankle covering socks for cooler days.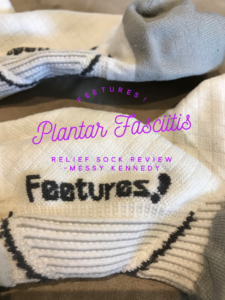 About a year and a half ago I started suffering from mild Plantar Fasciitis (PF). The only reason why it didn't get worse is because my mom had it severely so she helped me diagnose it early and keep it from getting worse. Being on my feet all day and then trying to fit in longer and longer runs means I have days where I can feel it. There have been days where I had to skip my scheduled run because I was afraid to make my PF worse.
A few weeks ago I saw a new product online from Feetures! for PF. It was a new compression sock that is supposed to relieve PF pain and symptoms. Feetures! and other companies have made PF compression sleeves for a while now. I do not like a sleeve because then I still need a sock on and that's an extra layer. The release date was like fate, because then I had a bad PF week where I couldn't get rid of my pain. Regardless of what I tried I couldn't get rid of it. So, got in my car after a meeting and went on a search for these socks. I ended up at my trusty local running store Runners Athletic Company. I bought a pair of these socks and put them on the next morning.
The next morning I woke up with the sharp pain in my right heel. Which was the PF making itself known. I put these new socks on and was surprised. On the sock you could see and feel the compression going different directions. The compression felt supportive without being constricting. The socks supported me in the right places. I could feel the pull in my arch and on the heel. After a few hours of wearing the socks in my work shoes (which do have PF insoles in them and have had them for a few months now) my pain faded and faded. By the end of the day it was completely gone.
After two days of wearing the PF socks, I haven't had any pain. I highly would recommend these socks to anyone whose suffers from Plantar Fasciitis pain. I plan to buy 15 more pairs so I don't have to wear anything else.
If you would like to follow along on my running and fitness journey you can find me on Instagram. To learn more about why I started running read this blog of mine.