Disney World is an amazing vacation for people of all ages. But let's be honest, it can be an exhausting and tiring trip. Especially with kids. In case you missed it, in March we took a trip to Walt Disney World with my husbands family. The trip was magical and amazing. It was exactly what I expected from Disney. Taking this trip as a mother, I made some notes to remember for the future and I thought I would share them with all of you.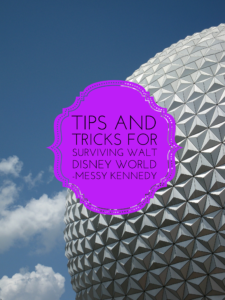 If you think you might want it, just rent a stroller.
Disney is a ton of walking. We know that. If you think your 5 or 7 year old might get tired, they probably will. We obviously got one for Calli but our niece and nephew were troopers but they the end of the third day they were exhausted. They ended up riding on shoulders a lot because of it. If you think you might want it, just get it and see what you think. You can always send it back.
You have more options than renting a stroller at the park.
Personally the strollers at the park are good if you have older kids who might not spend that much time in them or if you need to bring a bunch of stuff and don't want to carry it. These strollers are hard plastic and there is no cushion. If you have a smaller kid that will spend a lot of time in the stroller like Calli did, you want something more comfortable. Walt Disney World actually recommends three outside companies on their stroller page. When we were researching they all had great reviews from parents and they have high end strollers. We went through Kingdom Strollers and had a great experience. It showed up at our rental house on time and it was clean. The stroller was in great condition and of course it was well used in the parks.
Take refillable water bottles in and your own snacks.
We all know being in the park all day can be pricy. When you have growing kids they can also be scavengers. Save yourself some money and bring snacks. Also, there are drinking fountains all over the park. You can refill your water bottles all the time.
Use your FastPass+.
We were there during a busier time. And also had a group of kids who were in the age where waiting in line for long periods of time wasn't ideal. Consequently we used all of the FastPass+ available to us and it was so nice to not have to wait in lots of lines. Don't neglect those because they can make your whole day more enjoyable.
Sign up for Memory Maker.
If you aren't a big photo family, this might not be for you. Or, if you go with a small group, it might not pay. With the group of 9 we had, the Memory Maker subscription was totally worth it! When we got home we downloaded the pictures and it was so easy and great. It was worth every penny and I would recommend it to anyone. I loved that shortly after we took pictures they would be up on the app.
A trip to Disney World is always exciting but it can also be exhausting. I hope these tips help make your time there easier and more enjoyable.
If you have been to Disney World, what tips would you recommend?