I was sent a product free of charge from Commercial Silk for an honest review. The following post is my honest opinion of the product.
I have a black thumb. Unless are you my cactus named George. I have no idea why I cannot even keep a succulent alive (which I have been assured is simple). Luckily, I am more successful mom but that job takes away from my time to take care of a real plant. Enter Commercial Silk. They contacted me about trying a product and I figured what did I have to loose?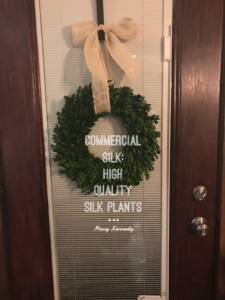 I am always looking for something beautiful to brighten up my front door that can stay for many seasons. When I was deciding what kind of plant to try, a boxwood wreath was an easy choice.
When I got my package I tore it right open. I was very impressed with the quality of the wreath. Although I cannot keep a real plant alive, I am very picky about silk plants. It takes a lot to impress me. This wreath is gorgeous and looks real. The best part is, it's also an outdoor plant! So if I want to, I can hang it outside.
Commercial Silk has an amazing selection of products, including silk plants that can add some green to your business. They have high quality products that will brighten up any room in a home or business. If you could add a beautiful silk plant to your decor what would it be?
Don't forget to go visit Commercial Silk on Facebook | Twitter | Google Plus | Pinterest | YouTube