I love something I can bake ahead and have ready for breakfast for a few days. It's the hardest meal for me to get because I'm usually getting ready for the day and then before I know it Calli is waking up and ready to go. I started going through Pinterest and thought this recipe sounded really good. I decided to try it and since then I have adapted it to be this recipe I make often.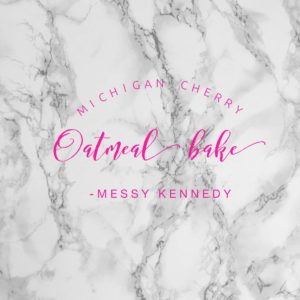 If you are looking for something really healthy this is not it. Although you could omit the chocolate and it would be much healthier and still yummy. But when chocolate is a choice I can't say no. I hope you enjoy this recipe as much as I do.
Michigan Cherry Oatmeal Bake
2017-01-19 20:31:00
An easy, delicious oatmeal breakfast bake.
Ingredients
3 c. old fashioned oats
1 1/2 c. brown sugar
5 1/2 c. milk
1/2 c. peanut butter
3 eggs, beaten
1 c. Michigan dried cherries
1 c. milk chocolate chips
Instructions
In a large pot combine oats, brown sugar, milk, peanut butter and eggs. Cook on medium heat until the mixture becomes thickened. Add in the cheeries and mix well. Pour mixture in a greased 9x13 inch pan. Sprinkle the chocolate chips on the mixture. Put in a preheated 350 degree oven. Bake for 30 minutes. Allow to sit for 5 minutes. Refidgerate lefovers and reheat.
Messy Kennedy http://www.messykennedy.com/