I am from Michigan. Growing up I always saw cast iron as a trait of southern family cooking. I still believe that but since then I have realized it's not just a southern thing. Cast iron loves are everywhere. Being obsessed with watching cooking on television, I decided to try a cast iron pan.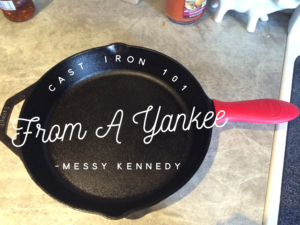 The word try and cast iron aren't good together. I learned this the hard way. That usually means you're going to wing it. Winging it equals an unhappy cook and a pan that everything is sticking to. Often people who have a family history of cast iron worship, which is more common south of Michigan, they also inherit many years of lessons on how to use it and care for it. I inherited none of those. I just bought a lodge 8 inch skillet off Amazon and thought I could handle this.
Without the appropriate research, I couldn't have been more wrong. When you inherit a family cast iron pan you are also inheriting a well seasoned pan. Buying a seasoned pan and inheriting a vintage seasoned pan that doesn't have rust on it are very different things. I learned that the hard way as well.
After lots of frustration and food that got stuck to my pan I hid my skillet and cried to the cast iron gods. I begged them to give me a sign I was meant to have a cast iron pan. The answer to my prayers came in the form of my mother in law, ironically. She had inherited some of her mother in laws cast iron pans and started researching extensively. She somehow came upon an article that went into the science behind seasoning cast iron.
When I comes to cast iron, not all oils are equal. This is the key to making a perfectly seasoned cast iron pan. This method for seasoning will take time, probably several days. But it is completely worth it, in my honest opinion. The secret starts with flaxseed oil. When baked correctly flaxseed oil will create a hard, long lasting, non-stick seasoning.
Start by rubbing the entire pan down with the oil (about a tablespoon). Using a paper towel wipe off the excess, you do not want it to look wet or overly shiny. Place the pan upside down in an oven and turn your oven onto the highest setting it has. Once the oven is preheated, bake it for an hour. Shut off the oven but leave it set for two hours. Once the two hours are up, you can take the skillet out and repeat it. You want to do this six times.
After I did this on my 8 inch skillet and I decided to cook some bacon. The bacon ended up leaving a gummy residue in the bottom and I was so upset. I got out my salt and scrubbed the skillet. The entire time I was mad because after all that work this seasoning was still ruined. "Dang you bacon!" I thought.
I got done scrubbing and rinsed the pan. When I did I realized I had scrubbed off the gumminess but I still had the hard, flaxseed oil seasoning on. That's when I was convinced this works. If you are a novice to cast iron like I was this seasoning technique is the first thing you need to do. It will help to minimize frustration while you are learning to use your skillet. Remember that cooking with cast iron takes times and experience, but seasoning it right to start with will help you greatly!
What are some of your most trusted cast iron tips for us newbies?