If you are a regular follower you know I love it when my friend Crystal from Crystal Cattle does one of her famous Beauty Swaps (follow along with #ccbeautyswap). For her 2 year Beauty Swap anniversary Crystal and my friend Myla from the Purple Front Door hosted a swap. You may remember me talking about how awesome Myla is in one of my previous Beauty Swap posts.
This time I got paired with the wonderful Melanie from The Traveling Cowgirl. She is a blast and I really hope we get to meet face to face one day. Personally, I think we should all plan a huge Beauty Swap Meet Up. If it were up to me it would include food, booze and shopping.
Let me start by saying, Melanie totally went all out. I did not. I promise I owe her some goodies when I am released from bedrest! Not only did she send me some goodies, but she also sent some gifts for Baby K. Naturally, that included a farm book and a giraffe toy, which will be perfect for the carseat.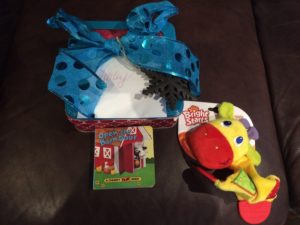 Melanie definitely didn't skimp on mama, either. I was so excited to see the things she picked out for me. I was so excited I just couldn't wait to try on my new makeup so I had a play day. My number one excitement was the new MAC lipstick. I told her I wanted a berry color. I was looking for a bold, winter color. Melanie hit the nail on the head by sending me her favorite lipstick. I am absolutely in love with this shade, called Rebel.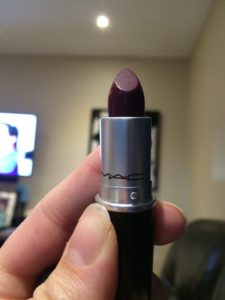 We had talked about BB creams as well. We were both between products so she sent me this Urban Decay Naked Skin BB Cream. She told me to not be scared by the color, she promised it would blend out well. She was right. I loved the feel of this BB cream, with my dry skin it felt light and not greasy at all. I even let it oxidize (in the 15 minutes after applying foundation it can sometimes oxidize and change colors slightly because it has been exposed to air and the unique composition of your skin) and went out in the sunlight and loved the coloring. It matched my skin really well, which is exactly what I want.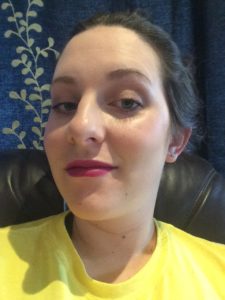 Melanie included her favorite Sephora eye shadow trio. She said this is her go to when she's in a pinch or when she needs more color. I have to say, I immediately loved the colors when I looked at the trio and loved them even more once I swatched them on my hand. Over the past few years I have started going more neutral with eyeshadow so I am thrilled to have some color back in my makeup bag.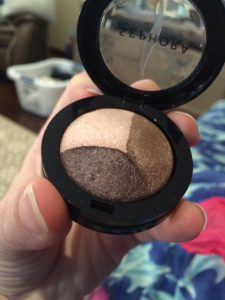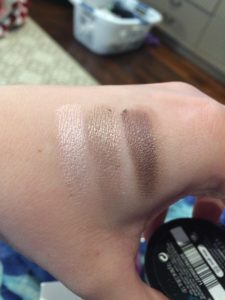 Melanie also made me a lavender scented, homemade sugar scrub. I have to say, I was excited because when I make sugar scrub I give it away as gifts. I cannot wait to put it to use in the shower. Also included was a shower glove (similar item here). I tried it out and talk about an awesome way to exfoliate your skin. If you haven't tried one you really should. Naturally, every woman needs an eye mask too. This one is soft and honestly, it will be perfect for those days when I need a nap during daylight hours.
I loved being paired with Melanie. If you haven't, you need to follow her blog and if you want to see her life in pictures follow her on Instagram. Thank you so much Melanie for being such an amazing partner and thank you to Crystal and Myla for doing the beauty swap. If you want to read any of my previous swap posts I have linked to them below. Don't forget to follow along and see what everyone got by using the hashtag #ccbeautyswap or by looking at Crystal's linkup on Thursday.