I grew up in a household where we listened to Classic Rock or '80s and '90s Country. Which means I was listening to Country before it was cool. When Country started to become popular is when it started to stray from my taste. Since then I have had a hard time liking a lot of Country music. I still like certain artists like my "boyfriend" Eric Church and my lady crush Miranda Lambert. There were a lot of artists that started out being original and fell into doing the popular thing. Or maybe they became popular with absolutely no talent. Seriously though, some of these new artists are really bad singers.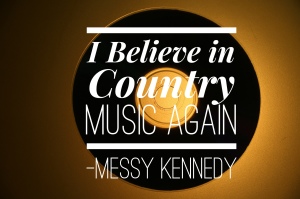 Obviously, we are going into Ashley's personal opinion here. So don't be offended and don't feel like you need to defend these artists. I will not agree with you so give it up. I have actually been listening to a lot of other genres lately because I just could not find a lot of country I liked.
Then I started to see some of my friends posting about this phenomenon of Red Dirt Country. My eyes were opened and I have started to believe in Country Music again. If you have been struggling with your ability to love country music like you used to, I might suggest a few artists and bands to check out.
The Randy Rogers Band came out with this love song called Kiss Me in Dark when I was in college. I listened to it all the time. It was one of my favorites in that genre. Fast forward like 7 years and I am listening to Randy Rogers Band again. This time I am listening to all of their music and I love it.
You have probably heard of Kacey Musgraves. If you haven't I'm going to share her anyway. My sister and I call her a hipster country artist. She has a quirky, witty way with lyrics but has a strong country sound. We adore her and cannot wait to see her at the Windy City Smokeout in July!
My third suggestion is a band called Whiskey Myers. I'm not sure how to describe them other than awesome. I know, awesome linguistics there. They have a really cool vibe and a great country sound. One of my favorite songs of theirs is called Dogwood. Check it out.
Now, I want to know what some of your favorite Red Dirt bands? I need to listen to more of this great music.