For the next few weeks I am channeling my inner Oprah. So, I can't buy you all a new car. Heck, I can't even buy myself a new car. This blog and the Facebook Page have been very busy the last week and I wanted to thank all of you for your support. So, I am doing…..
Ashley's Favorite Things Giveaways
So this is how it will work. I couldn't decide what I wanted to give away as a thank you so I decided to look at my favorite things and picked out some of my favorite products. I promise if you are a guy I do have some great product for you too! Just be patient.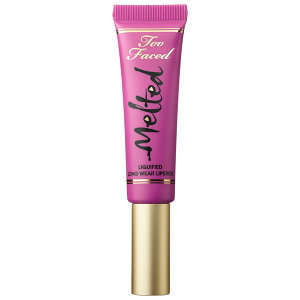 Today's Prize is: Too Faced Melted Liquified Lipstick in your Choice of Color
So I haven't tried this lipstick. But I really, really want to. It's been on my wish list for a few years now and I just haven't bought it. So I am buying you one instead. I just cannot tell you how amazing this lipstick looks so you will have to let me know how much you love it. The colors are stunning and who doesn't love Too Faced brand! One of my favorite eye palettes is made by Too Faced.
So, how do you enter this amazing giveaway? Well, there are several ways to get up to 4 entries. Don't forget to comment separately for each entry you completed!
1. Comment on the blog with what shade of the lipstick you would like and why you are so excited to try it!
2. Share the blog with your Facebook friends and comment on this post saying you did it.
3. Share the Facebook page with your friends and comment on this post saying you did it.
4. Share the blog with your Twitter friends and make sure you comment on this post saying you did this!
You have until February 15, 2015 at midnight to enter the giveaway. Winner will be announced on February 16!