If you have been following our house remodel here you know we living a crazy life. I am due for another update because we currently don't have a kitchen at all. Which means we can only cook out of a slow cooker and I have to wash the dishes at my parent's house. Luckily, we are in the downslide and the cabinets should be installed the next few weeks. Which means we are definitely due for a house update….
Since we have been stuck with slow cookers I had to get creative on the slow cooker recipes and I have gone to a few trusty resources to help me out. Rather than put together a list of my own slow cooker recipes I thought I would share the people that already did the research for me!
25 Tried and True Crock Pot Recipes from The Country Cook
The Country Cook has put all of our favorite classic slow cooker recipes in one place. I made her Loaded Potato Soup the other night and it was delicious! She has a lot of delicious, easy recipes on her website and I highly recommend it.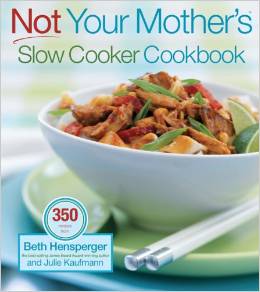 Not Your Mother's Slow Cooker Cookbook – by Beth Hensperger and Julie Kaufmann
If you are looking for truly unique, delicious recipes this is your cookbook. There are hundreds of recipes and I cannot wait to try all of the recipes in there. If you are tired of the ordinary slow cooker recipes you need to try this book!
If you are going to have a busy day or week, don't forget to check out these resources! They have been a huge savior for me.